Discover more from Gamedev.in
What is new in the gamedev world! Gamedev.in is a volunteer-run community for game creators in India.
Over 1,000 subscribers
Navigating the Bundle for Racial Justice and Equality, a try.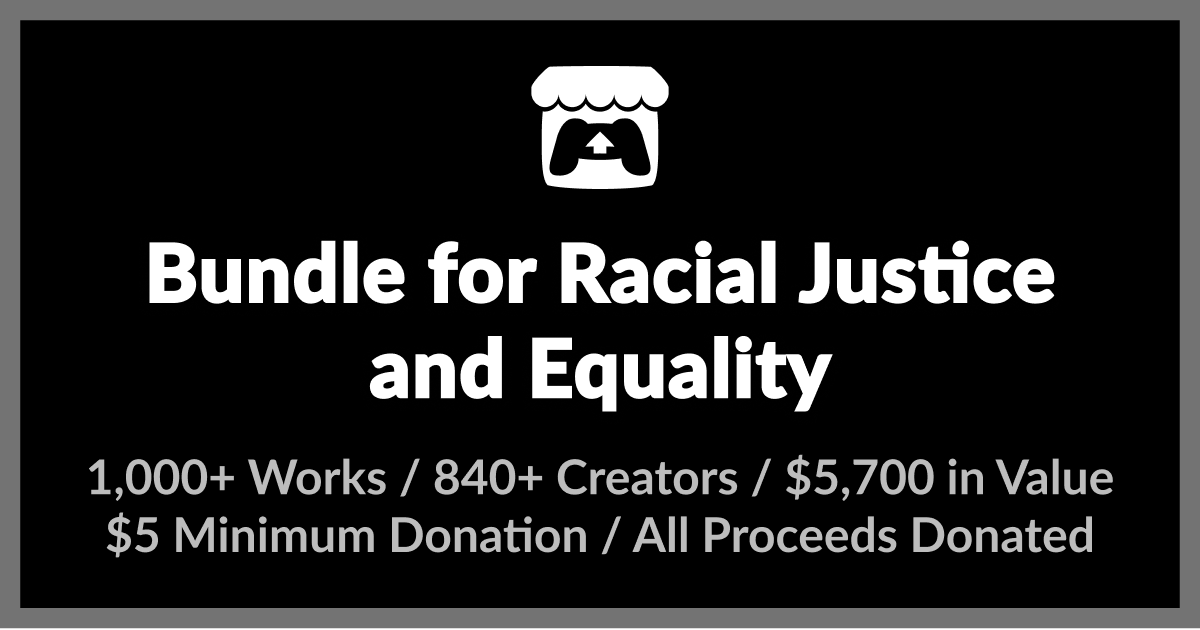 If you haven't bought the Bundle for Racial Justice and Equality, stop reading and do that now. For a minimum of $5, you get an amazing bundle with 1600+ games and assets.
I was struggling with how to approach this list of games and find ones to play. I've decided to look at it in multiple waves. Hope it helps you in some way. Most of the games that caught my eye in the first glance will probably be familiar to a lot of people, the rest not so much. It might sound weird, but the second list is what I am personally going to play first, because I may have already played all/most of the games in the first list (hence the familiarity). This list has about 200+ games listed and about 85 assets(I may have missed some), remember that you have 1600+ to look at. So once this is done, go check the rest! That is what I will be doing. Happy gaming!
Edit: You should also take a look at https://randombundlegame.com/ This is an awesome tool to quickly filter and sort and get at exactly what you want.
My first glance
Overland

Night in the Woods

A short Hike

Celeste

Walden a game

A Mortician's Tale

Mu Cartographer

Minit

2064: Read Only Memories

One Night Stand

Anodyne

Kids

Wheels of Aurelia

Nuclear Throne

Vignettes

Hidden Folks

Death and taxes

Signs of the Sojourner

Pikuniku

Metamorphabet

Quadrilateral Cowboy

Bleed

Bleed 2

GNOG

A Normal Lost Phone

The Stillness of the Wind

The Floor is Jelly

Knights of the Card Table

Super Hexagon

Golf Peaks

Old Man's Journey

Master Spy

Memoir En Code: Reissue

starseed pilgrim

The Hex

Another Lost Phone: Laura's Story

The King's Bird

Cook, Serve, Delicious! 2!!

Football Drama

Windosill

Headliner: NoviNews

Pyre

Semblance

Octodad: Dadliest Catch

Steam Marines

Luna

The Novelist

Secrets of Raetikon

Sandcastles

Runner3

Circa Infinity

Sidewords

And Yet It Moves

Oxenfree

Word Forward

Soundodger+

Receiver

They Bleed Pixels

Flat Kingdom

Octodad

KeyCars

Lieve Oma

The Indifferent Wonder of an Edible Place

forma.8

The Quiet Sleep

The Deer God

Don't Move
A second glance
Sky Rogue

ART SQOOL

MewnBase

Airships: Conquer the Skies

Arcade Spirits

WitchWay

Long Gone Days

Troika! Numinous Edition

Democratic Socialism Simulator

Tonight We Riot

Diaries of a Spaceport Janitor

Catlateral Damage

Micro Mages

From Orbit

Beglitched

Highway Blossoms: Remastered

Wide Ocean Big Jacket

Milkmaid of the Milky Way

Far from Noise

Sleepaway

Serre

Vilmonic

PAGAN: Autogeny

Sagebrush

The White Door

As We Know It

The Testimony of Trixie Glimmer Smith

Fortune-499

OneShot

Underhero

DANGEROUS DUELS

VEKTOR 2089

Throw Cubes into Brick Towers To Collapse Them

Spooky Ghosts Dot Com

a new life.

Drum Brain

The World Begins With You

Gun Rounds

Joggernauts

if not us

Astrologaster

The Search

Headspun: Dazed Edition

Three Lesbians in a Barrow

Seduce Me The Complete Story

nullpointer

Mable & The Wood

ETHEREAL

Steam Marines 2

TANGLEWOOD® (SEGA Mega Drive and Genesis)

Rebop Blasters

Fossil Hunters

Verdant Skies

The Rainsdowne Players

Shrug Island - The Meeting

Hair Dash

JUMPGRID

Crescent Loom

Last Word

The Away Team

Boreal Tenebrae

Super Slime Arena

Double Cross

Gutwhale

Mobius

Ruya

Ganbare! Super Strikers

Shutter Stroll

[Speer]

LYNE

Unfair Jousting Fair

On Rusty Trails

No Brakes Valet

Parallax

BFF or Die

Interactivity: The Interactive Experience

Rex: Another Island

Ollie & Bollie: Outdoor Estate

Plunge

FLAMBERGE

Cats are Liquid - A Light in the Shadows

Tiny Dangerous Dungeons

The Wolf's Bite

Silver Grapple

Blitz Breaker

Flux

Orion Trail

You Died but a Necromancer revived you

ALL-STARS DUNGEONS AND DIAMONDS

Pendula Swing: The Complete Journey

The Night Fisherman

Inkanians

Flufftopia

Neversong

Shn!p

Chipmonk!

Hero Generations

Kubyx

EleMetals: Death Metal Death Match

The Sword and the Slime

Towertale

Chess Mix

Ryza Roads

Bomsy

An American Werewolf in LA (EN)

Toto Temple Deluxe

Akuto: Showdown

Pumpking

River Tiles

Cromwell

BoomTown

Wild Woods

Hot Pot Panic

Dr. Langeskov, The Tiger, And The Terribly Cursed Emerald: A Whirlwind Heist

Night in the Storm

A Wish Upon A Star

Life: the game of chance

Cuckoo Castle

Color Cannons+

Fidelity

Gumgem

Humans vs. Humans 2018: Wasteland

Loopy Lore

Peckin' Pixels

Skyfarer

The Supper

Feud

TimeOut

Crystal Story: Awakening

J.U.L.I.A.: Among the Stars

Whipped And Steamy • Cosplay Café

QLRZ

A Lullaby of Colors (now available for Oculus Quest too)

A Snake's Tale

Pass the Buck: A Game of Corporate Responsibility Management

Spring Falls

Locomancer

The Way You Make Me Feel

Word After Word

Dogurai

SHNIPERS

Clouds of Fire: Blazing Skies

Rogues Like Us

Some Like It Hot: Chapter 0

Ring of Fire Prologue

Served

Dusk Child

DYO

Walking Doggos

stop

Pillars of Dust

Best Garden

Abomination Tower

Knightmare Tower
Assets/Other
Kenney Game Assets (20k assets)

DragonRuby Game Toolkit

Tape

CanariPack 8BIT TopDown

Wakamarina Valley, New Zealand

Pixel Fireplace

Game Development Cheatsheets - 2018 Edition

HUGE pixelart asset pack

Heroic Asset Series: Overworld

HPS Cartography Kit

Multi Platformer Tileset

Pixel Art Medieval Fantasy Characters Pack

Hex Kit: Spaceland Part One; Space

Pixel Art Infinite Runner - Pack

RPG Items - Retro Pack

Top-Down - Interior Tileset

CanariPack 1BIT TopDown

Tiny Adventure Pack Plus

RPG Farming Kit

Lava Caves - Fantasy Pixel Art Tileset

Heroic Asset Series: Icon Pack

Guppy

RPM - Rage's Platformer Movement Plus

Pixel Plebes Digital Card Deck

Dungeon Tileset - Top Down RPG

Pixel Button Prompts! (Keyboard/Gamepad)

Extended monster pack

PICO-8

PIXEL ART PLATFORM/METROIDVANIA ASSET PACK

Farming RPG GUI

Photoshop Inkers

Photoshop Real Pencils

Kawaii Game Icons

Candy Platformer Tileset

Bird Bakery

BearFX Explosions | Pixel VFX Pack

Relaxing Ocean SFX - Audio Asset Pack

THE OLD WINDMILL - GAME TILESET

Desktop Goose

plant daddy

Bandit Hideout Paper Miniatures Set

Electric Zine Maker (a work in progress, be gentle, hug it often)

Desktop Meadow

[Music Assets] Three Red Hearts - Prepare to Dev Edition

Fall Diary

Hitboxes and Hurtboxes

Pixel art Forest

Japanese City Game Assets

monad

PIXEL FANTASY RPG ICONS

Humble Fonts - Gold

Low Poly Auto Racing Car Pack - Devils Work.shop

Paid RPG Pixel Art Assets 2

8-Bit Sound Effects [100+ SFX]

Snapshot Shaders Pro (Unity)

Kings and Pigs - Source Godot Code

Medieval Town and Country + Interiors Bundle

Essential Pool Billiards Table Asset Pack - VR/AR

Just Rain

EarthTongue Soundtrack

Transitions - Godot Asset

Modular Cartoon Low Poly Dungeon Props and Tileset Pack

Generic RPG Starter Pack

Mini Loops

Old Man Character Sound Effects

Flappy AirShip GF/X Asset Pack

WretchWorks Arcade Pack

Medieval Low Poly Cartoon Character Pack

SNES Original Soundtrack Small Collection

[NEW] Gothic/Haunted Castle Tileset - 32x32

MM's Twitch.tv IRC Interface for GameMaker

Swords and Daggers Pack

Voxel Currency

Game Dev Flashcards

Tutorial: Versatile InDesign Book Covers

The Adventures of Yulpers! Soundtrack

Swords Pack x6

PS1 Dachshund Process Videos + Blender 3D Model

Desktop Dungeons OST

The Binding of Isaac OST

Super Meat Boy! - Digital Special Edition Soundtrack

盆栽 カレンダー (BONSAI CALENDAR)

Slime-San Arcade Music

SuperShot - Screenshot Tool

Global Games Industry Guide